DIY and Upcycling Projects
At SkipSearch.co.uk we're passionate not only about waste management but about making sure that the planet is in good shape for future generations, we feel strongly about re-using and recycling where ever possible to reduce land fill and waste -So here's our guide to some stylish and innovative Upcycling projects to save your household items from landfill.
Wine Crates
Wine crates are decorative and individual items that can be used for a variety of upcycling projects.
You can turn your old wine crates into great shoe storage spaces, this is a rustic look that looks great in your hallway. A budget friendly option which looks really chic.
Turn your crates into a fantastic and stylish book case. You can use paint or varnish to make sure they fit in with your colour scheme. This is cheap to make and will be a one of a kind piece!
You can decide whether you want them to be wide or tall, crates work well for book cases and display cases, there is no rule as to how you put them together to fit your space
By using some brightly coloured paints, shapes and wheels, you can turn old wine crates into charming toy boxes for a child's bedroom. Why not let them help you to decorate them?
.
Globes
Globes are sought after by interior decorators. If a globe no longer suits your home, it's a real shame to throw it out. You can use your old globe to make new items that suit your design theme.
How about making a lamp like this one? Its easy to do with some wiring, a plug and light bulb. This is an industrial look that brings some additional class to your home. The best thing is that you can make three new items of decoration from just one globe!
Once you have made a lamp from the globe stand, think about using your old globes as light shades, a fun and innovative way to style your home.
Why not use the remaining part of your old globe to make a clock for the wall, this is a quirky and stylish piece that looks great in any home. You can buy clock mechanisms cheaply and they are easy to fit.
Guitars
When your old guitar is damaged or you have got yourself an upgrade, don't just dispose of it! Why not use the ideas below to make sure that its still a feature in your home?
You can use the body of your guitar to make a fabulous shelving unit that will create a centre piece to any wall. Add your favourite items and it will be sure to impress.
Its not just your guitar that can be upcycled, you can also use the case to make a chic cabinet for your wall.
Need somewhere to display your plants and succulents? You can use your old guitar to display your favourite small plants and greenery. This is a unique piece for any porch, balcony or garden.
Ladders
Ladders are regular features at recycling centres, there are so many ways that they can be reused or upcycled. Ladders can look great in your home and can be used for many projects.
Why not clean, sand and use chalk paint to make your ladder into a feature that can display your favourite photographs?
Hanging a ladder on the ceiling can help to create a beautiful light installation and be a centre piece to your kitchen. Add some lavender or foliage for that extra touch of class.
Using an upcycled ladder as a shelving units is a popular choice in the home. They can be used to shelve many items including ornaments, plants and photographs. This is budget friendly and looks very effective.
Another way in which you can create a unique design piece in your house is to use your ladder horizontally on your wall. This makes a great bookshelf or feature to display your favourite ornaments.
You can even use old ladders to hold your favourite plants either inside the house, in the conservatory or in the garden. Choose paint to match your colour scheme to showcase your piece.
Pianos
Many people have an emotional connection with their old instruments, especially pianos. Instead of selling them or sending them to a recycling centre, why not keep them as a feature in your home.
There are many ways pianos can be upcycled to create fantastic talking points within your home.
Why not turn your old piano into a bar? Your friends and family will love this atmospheric idea and it will be the central point of any party.
Your can also turn your piano into a desk, this will make working from home more enjoyable.
If you're lucky enough to have and old grand piano, use it to create a beautiful shelving unit or dresser, this looks impressive and chic in any house.
Pianos can be a beautiful way to showcase your favourite plants and flowers. But make sure you use a weather proof varnish to prevent water damage.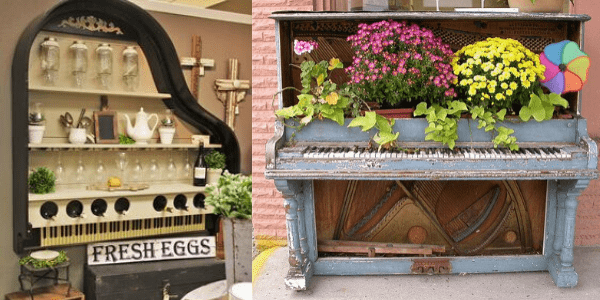 Suitcases and Luggage
Who would have thought that there was a use for old suitcases? Retro suitcases can create fantastic and individual pieces within your home.
Why not use your old suitcase to make a chic, one of a kind coffee table in your sitting room? They can also be used for extra storage for things like coasters or electricals, keeping your clutter at bay.
Add legs and your suitcase can become an attractive side table or desk.
Using old or broken suitcases as floating shelves can add character to your home. These are great for creating a feature wall and displaying some of your favourite ornaments and photographs.
Using old or broken suitcases as floating shelves can add character to your home. These are great for creating a feature wall and displaying some of your favourite ornaments and photographs.
Our pets are our best friends, you can make your furry friend a comfy and warm bed from an unused suitcase. Just add a cushion or blanket to finish it off.
Cable Drums
Cable drums are another item that are commonly disposed of, but there are so many uses for them within the home or in the garden.
Cable drums make really stylish bars and wine racks, these are great in any home and although very budget friendly, they look classy and expensive!
Tables made from disused cable drums are chic and unique, they add a rustic touch to any conservatory, garden or lounge. Add a candle, photo or centre piece for maximum effect.
Add dividers to create a beautiful bookshelf to organise and display your favourite reads.
Using the base of a cable drum can create a rustic clock face to feature in your home.
Cable drums are great for the garden, they are perfect for displaying your plants and greenery. Just make sure that you weather proof them with a good exterior varnish before use.
Boats and Canoes
Boats are for use in water aren't they? Actually, boats can make a great addition to any home. Boats are big items to commit to landfill so before disposing of an old or damaged boat, have a look at the projects below, you may be surprised at the possible uses.
Using a boat to build a bed is unique and effective. This would make a centre piece for any room. Just add a mattress and your favourite bed spread to finish the look.
Using a boat for an outdoor seating area looks great! Add some comfy cushions and you have a cosy and individual seating area.
Use the bow of a boat to create atmospheric outdoor seating area for you and your friends or family. Team this with the washing machine drum fire pit and you have a beautiful outdoor area.
Upcycle Old Furniture
Its amazing what you can do with some chalk paint and accessories to transform your old furniture. Before you send it to the recycling centre, have a think about whether it can be used for other projects.
Turn an old sideboard into a stylish bench. Perfect for a reading nook or in a hallway. All you need is some paint, new handles and cushions.
If you have some drawers that you were going to send to the recycling centre, why not turn them into shabby chic roller draws that can be slid under the bed. Add some wheels and a fresh coat of paint and this is a great space saving tip!
Don't get rid of old chests of drawers just because they are not the right colour for your newly decorated room. All you need is some chalk paint and new drawer handles and you can have a great new piece of furniture!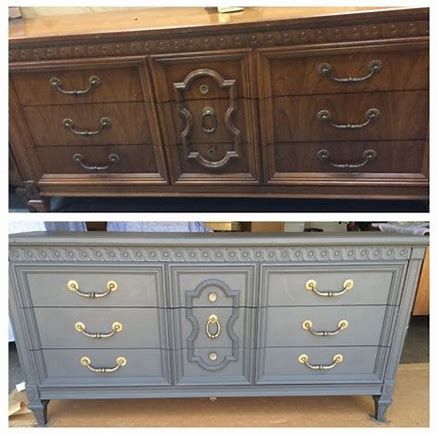 Small Upcycling Projects
Use old rulers that have lost their straight edge to make rustic coat hooks. Just screw in hooks and this will make a great feature in your hallway and help you to prevent clutter.
Add some led lights to your old wine bottles to make stunning lamps that will add atmosphere to any room.
Add some LEDs to your old mason jars to make a beautiful light installation in any room.
Use your old light bulbs to make pretty terrariums and add some greenery to every room. Light bulbs are difficult to get rid of naturally and can effect the environment.
Hopefully, this has given you some great ideas to upcycle waste in your home. There are so many things that you can do with old household items which will prevent them ending up in landfill. Upcycling is a great way to help the environment and protect our planet for future generations.
For More info on what happens to your waste when you hire a skip see our Guide here