The Hassle Free way to Hire a skip in Weybourne
It's helpful to know some of the basics of hiring a skip in Weybourne that will help you maximise the usefulness and minimise the cost of your hire. Here is some useful information you may need before hiring.
What can I put in a skip?
Skips are great for a wide variety of domestic waste material. Business waste that is dry and recyclable can also go into a skip. There is no need to separate your waste as the skip hire company will sort the waste for recycling at the depot
Home renovation produces waste like brick, wood, and concrete. Waste from a DIY home improvement and Garden projects will create waste like wood, stone, gravel and plant and tree debris. These types of waste are all allowed, making skip hire the ideal waste disposal for these projects. It makes even more sense as a solution when the weight exceeds that which you can drive to your local landfill.
What can't I put in a skip?
There are restrictions on what waste cannot be put into your skip. Items that are chemically or biologically hazardous, flammable, or cannot easily be recycled are restricted and these should not be put into your skip or your hire company may refuse to take it.
Below is a list of restricted items that cannot be put in your skip.
Batteries – these contain hazardous chemicals and should be taken to your local recycling centre.
Electronics and large appliances such as TVs, Fridges, Freezers, washing machines and dryers
Paint or chemicals
Medical waste
Tyres
Asbestos
Gas cylinders
Light bulbs
Plasterboard
Any other hazardous item
Plasterboard used to be allowed in mixed skips, but due to new legislation in 2011 on its disposal must now be separated.
You Might Need A Skip Hire Permit
Before you call your local skip hire, you might need a permit. 
A skip permit allows you to place your skip in a restricted area. You can think of a restricted area as any land that does not belong to you. In most cases, a restricted area is a public space. With a skip permit or licence, you may use a restricted area (under certain conditions) for your skip.
Restricted areas can be any of the following:
Public highways
Roads
Parking spaces for commercial and public use
Parks
Pavements
Any paved surface with public access
There is a skip permit fee. However, this tends to differ from one council to another.
We Can Arrange For Skip Permits Or Licences
We can apply for skip permits on your behalf. You can add your skip permit to your basket before completing your order. This makes our skip hire a hassle-free waste management option. Please allow 7 days for delivery of your skip if you are adding a permit to your order. This may arrive sooner however.
Before you call your local skip hire, you might need a permit. 
A skip permit allows you to place your skip in a restricted area. You can think of a restricted area as any land that does not belong to you. In most cases, a restricted area is a public space. With a skip permit or licence, you may use a restricted area (under certain conditions) for your skip.
Restricted areas can be any of the following:
Public highways
Roads
Parking spaces for commercial and public use
Parks
Pavements
Any paved surface with public access
There is a skip permit fee. However, this tends to differ from one council to another.
Skip Companies Try To Recycle As Much As Possible
Skip hires eventually dispose of rubbish in landfills. However, every ton of waste disposed of incurs a landfill cost. This is why skip companies try to redirect or recycle items this reduces the amount of rubbish that needs disposal. This is why a skip hire is an eco-friendly way to handle wa
Skips In Weybourne Are Available In Different Sizes And Prices
There is a range of skip sizes available to customers. You can choose from sizes as small as a 2 yard skip to the most popular 8 yard builders skip, all the way up to a 40 yard Roll on roll off (RORO) Skip. It comes right down to how much waste you need to get rid of. 
Of Course the bigger the skip, the more waste it will hold and the higher the cost of processing and disposing of that waste and that is reflected in the cost of the skip. The bigger a skip is, the higher the cost. 
Skip-Related Violations Can Result In Severe Penalties
Skip Hire in Weybourne like every other city and town is tightly regulated both at a council level and by the law. By law, skips need to have the necessary permits or licences. If a skip operator is found renting out skips unlicensed, the operator can face a fine of up to £1,000. Also, it is illegal for skip companies to operate without a skip operator licence. 
Since skips can potentially cause obstructions in parking spaces, you might have to apply for a parking bay suspension. Having a skip placed in a parking space you do not own is also illegal. Also, you can be fined £1,000 for not placing traffic cones or markings on your skip. These cones or markings make the skip visible to pedestrians and motorists. 
As mentioned earlier, skips can accommodate a range of waste materials. More often than not, these are the products of building or renovation projects- small in scale or otherwise. 
In general, most types of construction debris or waste material can go into a skip. For the most part, these are dry and have a high potential for being recycled. Skip hires would be more than happy to help you get rid of the following: 
Furniture
Cardboard
Paper or paper-based wrapping 
Shredded paper
Bricks
Tiling
Stones
Clay 
Plastic bottles
How To Hire A Skip In Weybourne
We make hiring a skip straight forward and hassle free, all you need to do is follow these simple steps
Determine The Size Of The Skip You Need
Estimate the amount of waste you need to deal with, consult our skip size guide and decide on the best size for your needs. 
Determine Whether Or Not You Have An Area To Place A Skip
Consider access to your property and whether the required size of skip will fit on your land or need to be placed on public. Having the right area for a skip can mean the difference between you applying for a permit or not. 
By law, a skip not placed on your property will require a skip permit or licence. Otherwise, you might not need one. 
Also, make sure that the area for the skip will be stable enough to handle its weight and will not be damaged by the skip. Consider protecting the area by creating somewhere for the skip to stand. 
Sort Out The Necessary Paperwork
The requirement for placing a skip in a restricted area is a skip permit. There is an additional requirement if you want to use a parking space you do not own. You will also need a parking bay suspension. 
Your local council issues both. You need to apply for the parking bay suspension. As for the skip licence, we can arrange this on your behalf
Spend time and effort calling numerous Skip hire companies and getting quotes from each, then try to determine which will best offer the service you want. Quotes may not vary much and it's hard to understand if the skip company offers great customer service and is responsive to communication.
Simply choose to use our quote tool, where you can rest assured that our network of fully licenced, experienced hire companies will meet your needs with minimum fuss and at a reasonable price.
Skip Sizes And Skip Prices In Weybourne
Skips come in a whole range of sizes.The prices of skips vary from one city or town to another. For the most part, the size of the skip can determine its price. 
One size up, 4 yard skips can accommodate waste from DIY home improvements or small renovations. A 4 yard skip is the most common size used by householders undertaking work themselves in the UK. 4 Yard skips will accommodate around 45 bin bags of waste.
6 Yard Skip – Medium Skip
6 yard Skips are generally used for large home projects or sometimes used by builders for small renovation projects, they can hold around 65 bin bags full of waste.
8 Yard Skip – Large Skip or Builders Skip
A builder's skip or 8 yard skip is so named because it is the most popular skip size used by builders in the UK. It can hold as many as 80 bin bags, making it ideal for large-scale home improvements. It can even be used for small commercial renovations.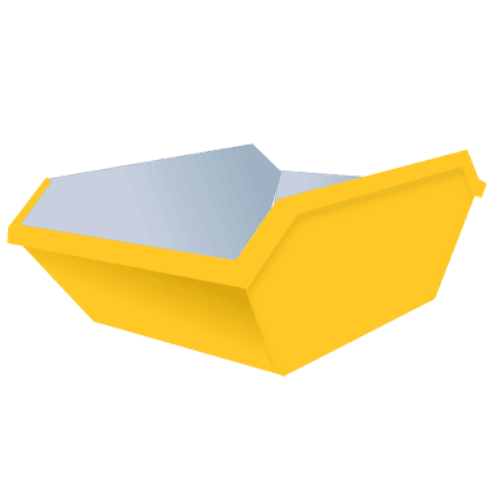 12 Yard Skip – Extra Large Skip
With a 12 yard skip, you can easily fit at least 120 bin bags. A skip this size will meet the needs of customers undertaking major work, but it is worth considering the size of the area required to accommodate this skip.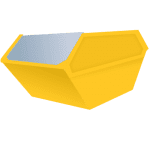 How To Reduce The Cost Of A Skip Hire in Weybourne
For some, a skip hire can feel expensive. Luckily, there are some things you can do to lower the amount you would have to pay. Keep in mind that the size of the skip determines the price. Hence, if you wish to lower skip costs, you need to find a way to rent a small skip. 
Here are some ways you can achieve this: 
Not everything you wish to get rid of has to go into a skip. Sometimes, it may be a good idea to give these things away. 
Examples of things you can give away are:
Old furniture
Clothing
Christmas decorations or ornaments
You may also find some items that may be reused. If this is the case, you can recycle them. Besides, you can dispose of them at a later time. 
Materials you may be able to recycle are: 
Glass
Polystyrene containers
Plastic containers
Perfume bottles
Recycle, and not only will you save the planet. You will be doing your budget a favour as well. So, take the opportunity to recycle as much of your waste as possible.
Be Smart When Loading Your Skip
Try to avoid leaving gaps in your skip as you'll be paying for empty space. If possible separate your waste by size and shape before putting it into your skip. This will allow you to fit waste into your space in the most effective way.
Start with large square items like doors, radiators etc, these should be put flat at the bottom of your skip. Next fill the gaps around these with smaller items, think rubbish Tetris. Large bulky items should be broken down where possible and put in next. Items like sofas and armchairs are virtually empty inside so leaving these items intact will waste a lot of space. Finally, tip any gravel or debris into the skip, this will settle between bigger items filling up any unused space.
Getting Quotes for skips is a sure fire way to make sure that you're not paying over the odds for your skip hire. Be aware that skip hire prices vary depending on location. Skip hire prices in Weybourne will be different to other cities and towns.
Book Your Skip In Advance
Sometimes, when the demand for skip hires is high, the prices can go up slightly. Booking ahead of time can help you save on costs. Doing so can also save you from the stress of calling around and not being able to book a skip when you really need one.
Some Safety Measures To Consider With A Skip Hire in Weybourne
Even though skips are often yellow, you need to make your skip easily visible to motorists and pedestrians. 
To do this, you may use the following: 
Failure to do this can lead to a fine of £1,000. 
Pick Your Skip's Location Carefully
You also need to ensure that your property is stable enough to handle not only the weight of the skip. The location of your skip should also bear the weight of the skip once it is filled. 
Also, make sure that you will be placing your skip in a place where little to no traffic occurs. Which brings us conveniently to the next tip. 
Sort Out Your Parking Bay Suspension
A parking bay suspension is a temporary closure of a parking space for a skip. Often, you need to have one for a parking space that does not belong to you. 
Skip hirers (that means you) are responsible for applying for the suspension. You can apply for one at your local council. For many councils, you can do this with an online form on their websites. 
What Not To Do With A Skip
So, how do you know if you have put too much into your skip? 
Most if not all skips will have the words "Level Loads Only" written on a line inside the skip. The line indicates the maximum level to which the skip can be filled. If your rubbish goes above this line or threshold, your skip hire can refuse to collect your skip. 
Why? 
Because if your skip is overflowing with rubbish or bin bags, this can be difficult to transport. A skip with too much rubbish can lead to the bin bags falling on the road during transport. This can lead to road accidents. 
Don't include Prohibited Waste Material
Skip hires will also not collect your skip if prohibited material is found. The reason for this is related to how skips intend to dispose of rubbish. 
As mentioned earlier, skip hires collect rubbish that can be recycled. Most prohibited materials like chemicals, food waste, and pesticides cannot be recycled. As well, they are dangerous for the environment and the waste removal team. 
Don't Place It In A Space You Do Not Own
Skips on restricted areas like public parking spaces and highways will require a skip permit. Otherwise, you or your skip operator could be fined as much as £1,000 by the council. 
Don't Allow The Skip To Be Placed On An Unstable Or Unprotected Area
Skips along with their collection vehicles are heavy. They are so heavy that they tend to damage concrete or tarmac even when empty. If you value the area your skip will be placed in, you may want to use planks of wood as buffers between your surface and the skip. 
Having something like a protective buffer can also prevent potential damage caused by a skip lorry. Collection lorries can be heavy once they remove the skip. The lorries are equipped with steel stabilizing legs that can do some damage to your driveway or paved area. 
If you are unsure about how to protect your driveway or property, you can ask about protective measures. 
Alternatives to Skip Hire in Weybourne
If (for some reason) you are thinking of other ways to get rid of rubbish, here are some other alternatives to consider: 
Man-with-Vans are waste collection companies that take your rubbish to either a recycling center or rubbish tipping point. A man-in-van offers a range of services beyond waste removal. They can also help you with moving house and deliveries. 
Skips can take a lot of planning and space. This is where a tipper van comes in. Tipper vans, like man-in-vans, take your rubbish to a waste disposal facility. 
You can hire a tipper van ahead of time or on the day. In other words, tipper vans can make a day collection. Also, since the rubbish will be inside the van, there may be no damage to your driveway. Tipper vans also do not require a lot of space. 
Sometimes, there may not be enough rubbish for a skip. For small amounts of waste, you can opt for a skip bag. 
A skip bag or a hippo bag works in nearly the same way as a skip. It can hold up to a ton of rubbish, and you can just leave it kerbside for the collection lorry to pick it up. 
Think of it as having the benefits of a skip without the weight and bulkiness.
Why You Should Hire A Registered Waste Carrier
In the United Kingdom, the government and councils regulate waste removal companies like man-with-vans and skip hire companies. This is because waste removal is a highly important concern of the country. Registration helps ensure the quality and safety of services.
You should look into the registration of your skip hires for two reasons: 
Registered Skip Hires Cannot Fly-Tip.
Skip hires always make it a point to dispose of waste legally. They take non-recyclable waste to a waste transfer plant. They do not commit fly-tipping. A skip hire unregistered can simply take your skip and dispose of the rubbish wherever they want. 
Sure, this might not seem like a problem. But, you might face a severe penalty if the rubbish is traced back to you.  
You will only need a permit if your skip is placed on a public road.  If your skip is on private land like a driveway you will not require a permit. You can add a skip permit to your order for £70
We offer 4 yard (Small Skip), 6 yard (Medium Skip), 8 yard (Large Skip or Builders Skip) and 12 yard (Extra Large skip) in Weybourne
Each has its benefits, for example, a man with van service will take your waste on the same day and may even help you load it. For longer-term projects or renovations, a skip is the best option and for rubble and soil, a skip is the best option.
It is illegal to fill and transport a skip higher than the level of the sides or to use boards to make the sides higher.  If you do this, we can refuse to collect your skip.
Skips are available to hire from 1-14 days. When you are ready for your skip to be collected you will simply contact us to arrange collection. If you have a permit you need to make a note of the expiry date to make sure your skip is collected before this runs out.
Get a quote in 30 seconds and order online
Ready to get a skip hire quote? Click to get started right away